I believe I was looking for a cycle route between Bergen and Voss when I first came across the article about crossing the mountain between the Samnanger fjord and Bergsdalen valley, using an old military road since the 1920's. Reading it I realized that the term road was being used a little differently from what I'm used to, but nevertheless the article inspired me to try it out for myself. Or perhaps it was because of that. Besides, it described a riding/pushing/carrying experience twenty years ago and much can change in two decades.
I was later told that this military infrastructure wasn't just the road over this particular mountain, but begins much closer to Bergen—my references don't quite agree where excactly its starting point is located and to be honest I haven't yet put the necessary time into researching it.
It was never finished however, as the need for such a road had decreased during the period between the first and second world wars, leaving only hiking trails in between the stretches of road in several places. For this reason not all of the route described here is equally suited for cycling. Personally I don't mind having to push my bike some, or carry it. Others may feel differently about it, something to consider should you feel tempted to follow the route, or parts of it.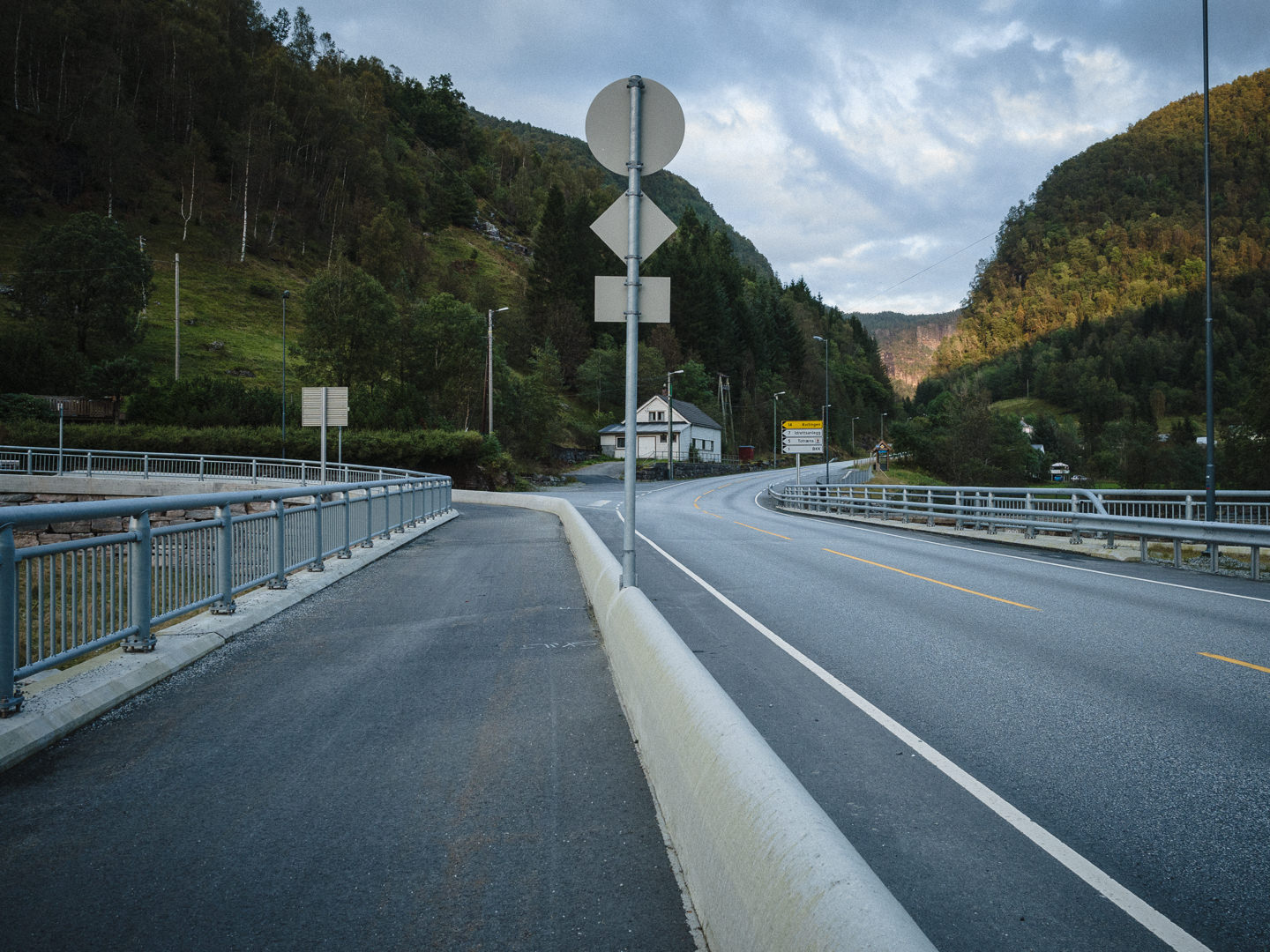 After crossing the low mountain pass between Bergen and Samnanger one cycles through the village Bjørkheim and past another one, Tysse. Shortly after Tysse the sign to the farm Kvitingen appears.
Kvitingen is where the military road I had read about begins and the 14km ride up there was nice, the weather was good and the scenery offered a few photo opportunities. Although, judging by the fading daylight, it became apparent that leaving home a few hours earlier wouldn't have been a bad idea..
Not knowing what to expect, the military road started out pretty well, not too steep and fairly rideable. It didn't last very long though, partly due to the fading daylight but not least because the road got increasingly steep and wet. By then I realized that I wouldn't be able to get as far as I had wanted to before camping, but stubborness and a headlamp kept me going well into darkness. Next to the trail the ground was quite swamp–ish so I had no choice but to keep going until finding a spot dry enough to pitch a tent.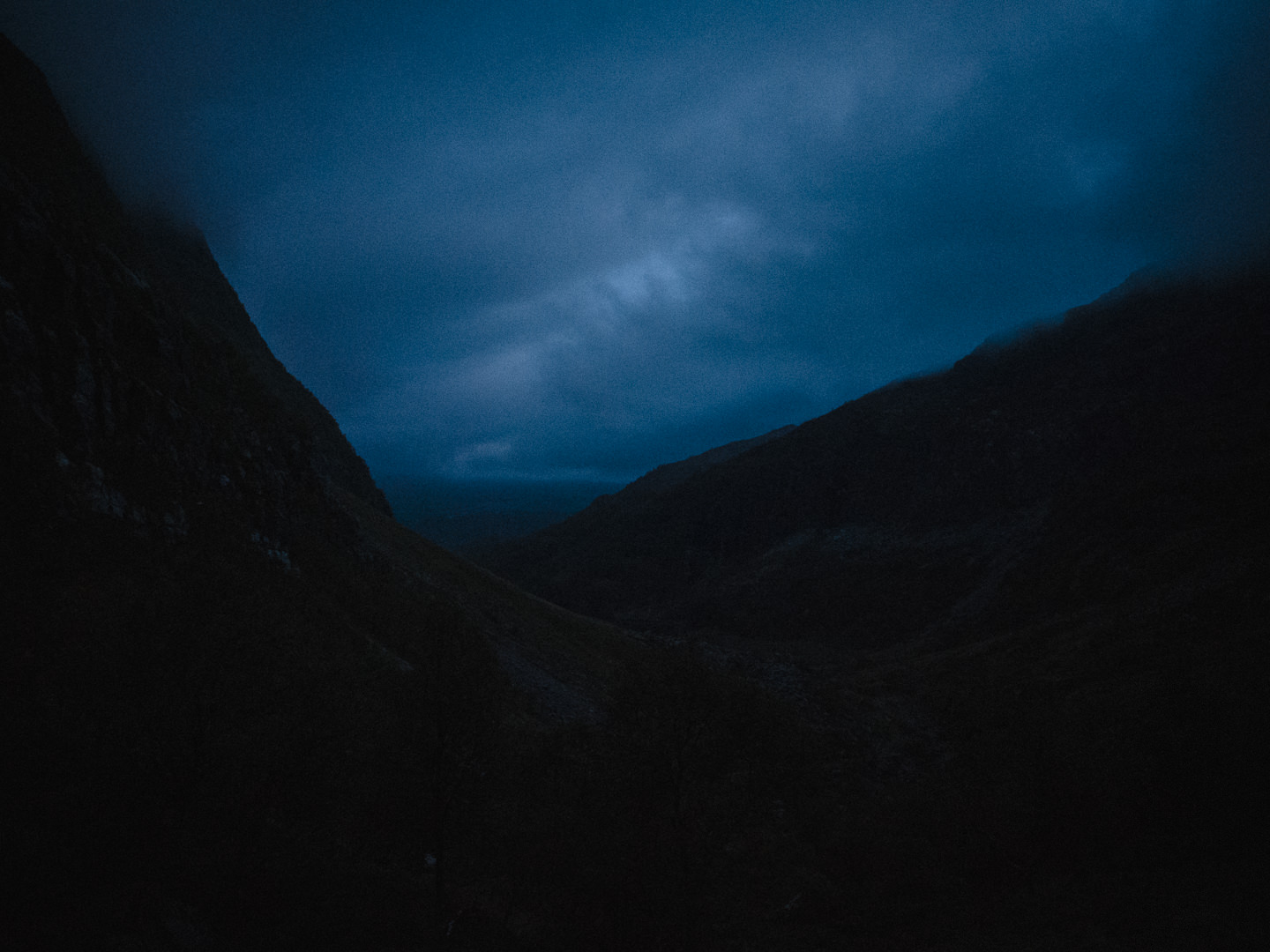 Although I haven't camped much in recent years, this wasn't the first time I've camped in the dark. It's always interesting to wake up the day after, having little or no idea where you're at or how the landscape looks.
After breakfast and coffee it was time to get moving again. Like before the road was wet here, very wet, but partly rideable and it would get better as I got higher.
Around the highest peak on the route there is a tourist hut, Gullhorgabu. Not long before reaching the hut the road came to an abrupt end. The trail here was narrow and rocky and difficult to impossible to walk the bike. So from here and past the hut I had to carry it quite a bit.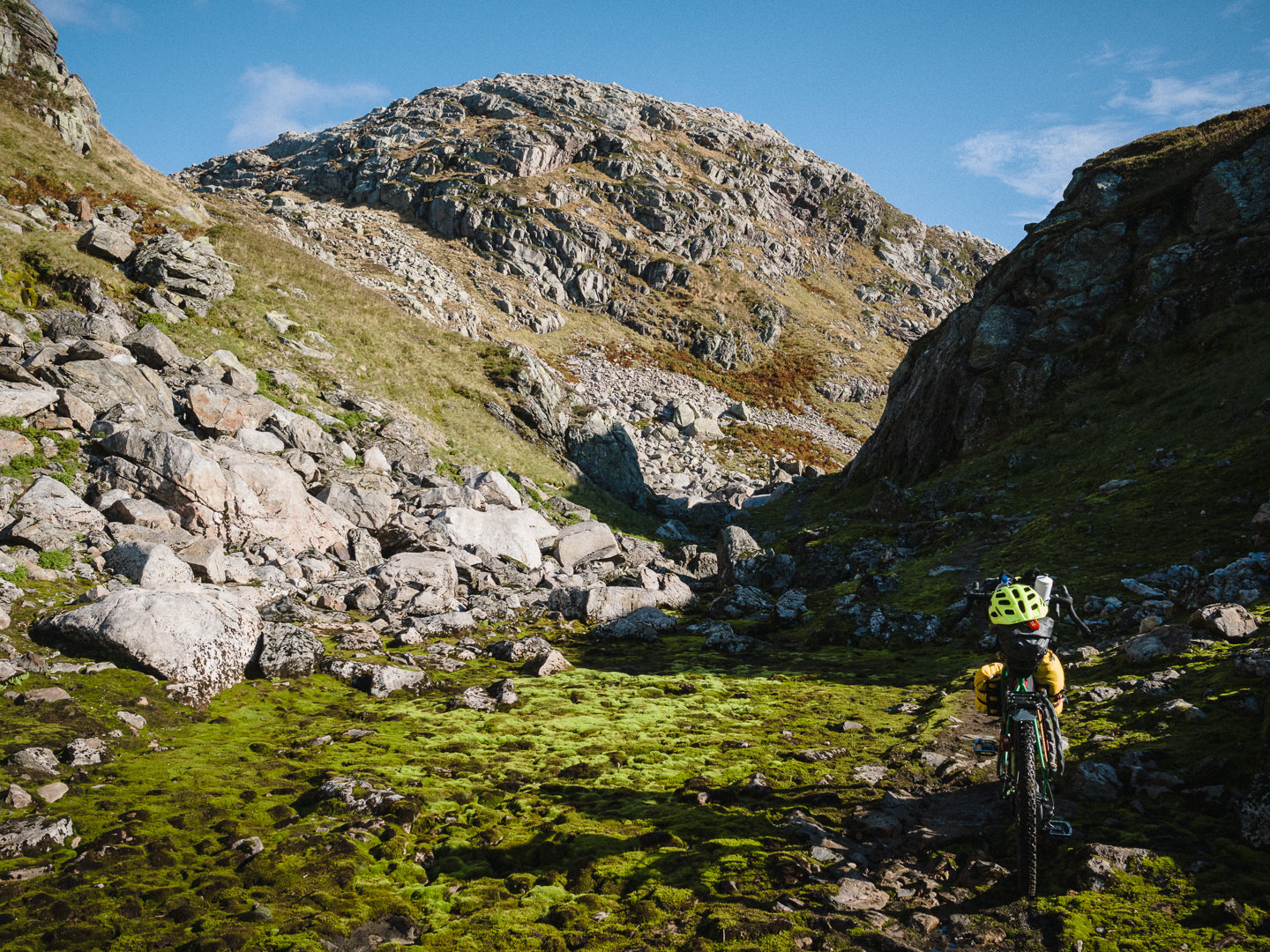 After passing the hut the road appeared, disappeared and appeared again—and so on—but the trail was ok to ride. Probably even a fairly nice one for more skilled trail riders than myself.
Returning to civilization is at Småbrekkene, a farm in Bergsdalen valley. From there it's tarmac to Voss.
Bergsdalen was a stunning ride, hardly any traffic and the scenery looking its finest. At the end of Bergsdalen there is a descent down to Bulken, about 500m drop over a stretch of 11km or so. For the speed enthusiasts I'm sure it offers some potential.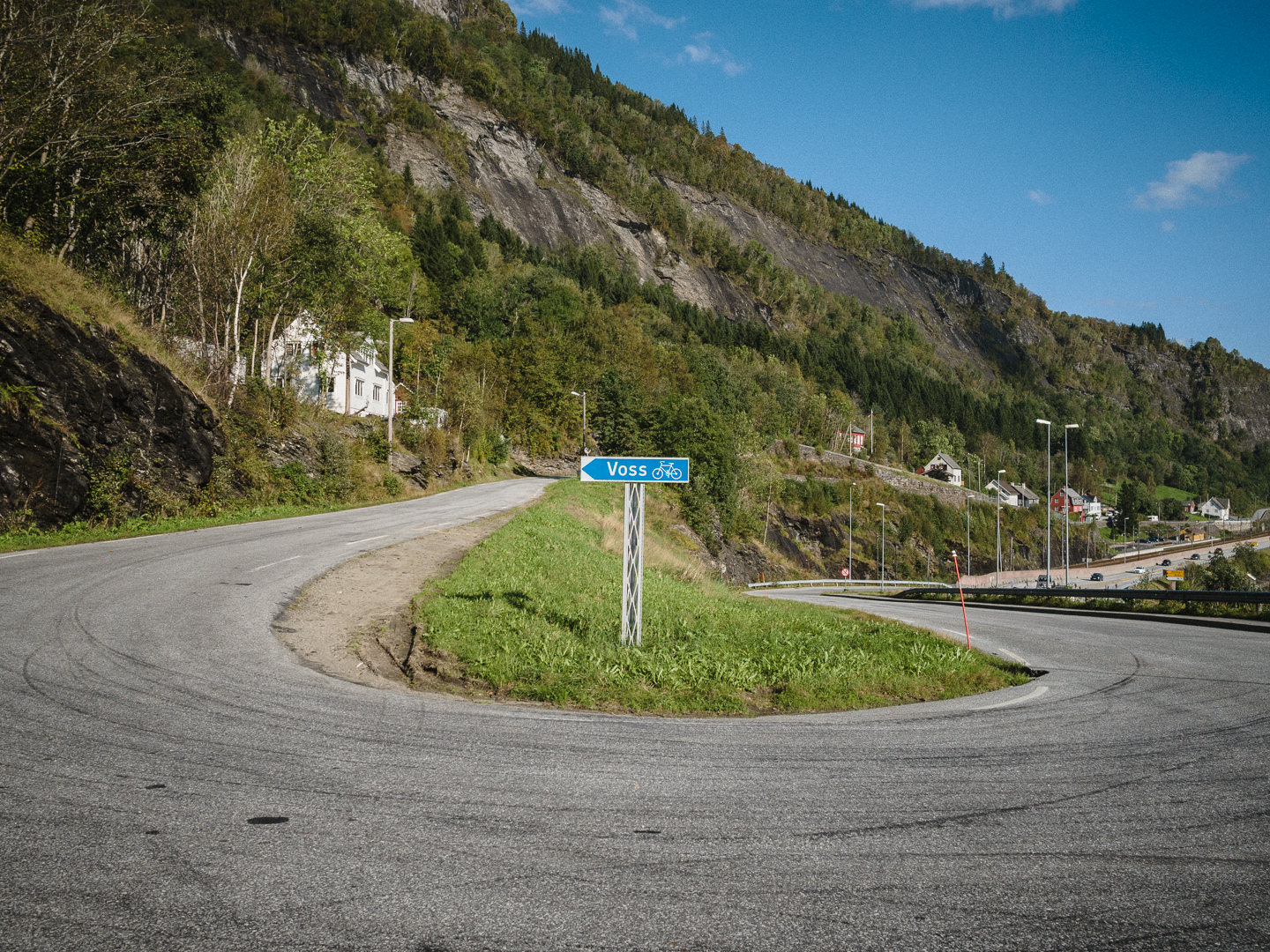 Rolling into the train station in Voss I was greeted with a voice on the intercom saying that my train was arriving in five minutes. Decent timing for a non–planned train trip home.
Ever since I read that article I mentioned earlier, riding the route has been on my to do list*. I had intended to make the trip when I came back from vacation in mid july, but back then it rained non stop for weeks, so much that it didn't even occur to me to pack up any camping gear. August was busier than I would have preferred but luckily, for us who live in western Norway, september came through with the nicest autumn weather. It was a fine sunday that I finally got to mark this particular item on my to do list as completed.
*not a list, really.
Map