Where: Osterøy, Eksingedalen and above, not far from Bergen, West–Norway.
When: September, 2016
What: A second attempt to find a cycle route between Bergen and Voss.
Why: On the map, that island looks like an invitation to ride across it. This needed to be confirmed, or not.
During a period when I was a kid, I drew maps. Lots of them. Islands and valleys, rivers, roads. There was usually an underlying story going on and I would create the landscape excactly the way I wanted it, and if I felt the need to get from here to there it was simply a matter of adding a line representing a road or a bridge or a footpath with the pencil.
All good child fantasy, right?
But I still do, draw maps. Not so much with a pencil on a piece of paper, rather—on the maps I'm looking at, or studying—I somehow deny myself to be limited by the boundaries the landscape imposes. To a degree, at least. I guess another word for that is fantasize. Another might be, depending on the circumstances, recklessness.
From here to there
At some point I got rather obsessed with getting from Bergen—where I live—to Voss, by bike and without having to resort to public transport. At the time I was probably thinking of other routes from there, but the Bergen–Voss project proved to be enough of a challenge so it claimed a fair chunk of the efforts. The internet offered one route, while the online maps provided an inspiration to try another. The latter, however, needed some work, a certain level of fantasy, or refusal to be limited by the landscape.
I could have read the maps better, I should have asked around and made phone calls and not simply decide on my own that the 7km long stretch through the woods and god knows what else was perfectly passable and that everything would turn out ok. In hindsight though I'm glad I didn't as the experience was totally worth it!
After all, the worst things that happened was that it got dark, I got my feet wet and moved quite a bit slower than I would have preferred. And missed a turn at one point. On the other hand, although it was unlikely that I would get myself in any real trouble on this short, roadless stretch, should anything have happened there certainly wasn't any cell phone coverage to get me out of it.
I guess the point I'm trying to make is that ignoring maps is probably not something to turn into a habit. Or, winding down the tendency that is already there might be a good idea. Sure, this close to home, and in terrain this friendly it's all well and fine, but I suppose it's better not take this attitude too far into the mountains.
Bergen–Voss
The distance between the two towns is only about 100km, if travelling by car. Cycling the same route isn't allowed due to the many and long tunnels on the way. The bike–legal route is some 60% longer, if I'm not mistaken, all of it on tarmac. So it's either to jump on a train, or find alternatives.
The alternatives, however, are few and far between. The general idea was to not add many unneccessary kilometers to the trip so in reality the options are even fewer.
It seemed only logical to look at the island Osterøy. Placed not in direct line between the two places but not very far off either. And it has two bridges, one on the south side, which I've used on a number of occasions and another on the east side. Where I wanted to go, in fact. Plus I had never been to that part of the island before, making it all the more appealing. The only small problem was that the two parts of the island aren't connected with with anything resembling a road, but zooming in close enough on some of the online maps one could pick up what appeared to be a trail of some sort. Sweet, trails are nice, right?
Tysse, Osterøy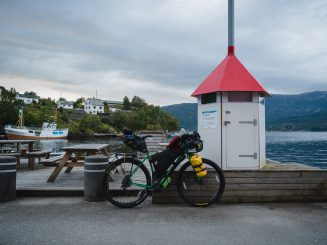 The road doesn't go much further than here. One of the customers at the grocery store in the previous village, Fotlandsvåg, just shook her head at me when I asked if it was possible to get from there to the other side of the island, to the east–bridge to the mainland. Athough, after thanking her for the advice—which I did appreciate—I silently told myself "hah! I'm doing it anyway" (a bit childish, I know). Only to find out that I ended up blowing the timeframe way out of proportions, ending up crossing the woodland in the dark with soaking wet feet, and guess if finding a decent camping spot is any fun by then!
Actually, finding a camping spot there, in the dark, turned out to be unsuccessful. The choices would have come down to sleeping in a puddle or in between trees with enough space between them for perhaps half a tent. Neither of the options tempted.
So when I finally got through the woods and found a road, after miraculously managing to get lost no more than once, I was quite ripe to just get out of there. To sit on the bike and pedal, away. Did keep the headlamp on though, looking for decent camping spots along the road. They didn't show up, not until I was off the island. How decent it was, the spot where I ended up sleeping, is up for debate.
Day two, Eidslandet
So, there I was. Literally next to the road, some place that looked like it had been used for dumping material and then forgotten. It was fairly flat though, and not a swamp, and I had been able to sleep ok despite the odd truck driving by. So no complaints.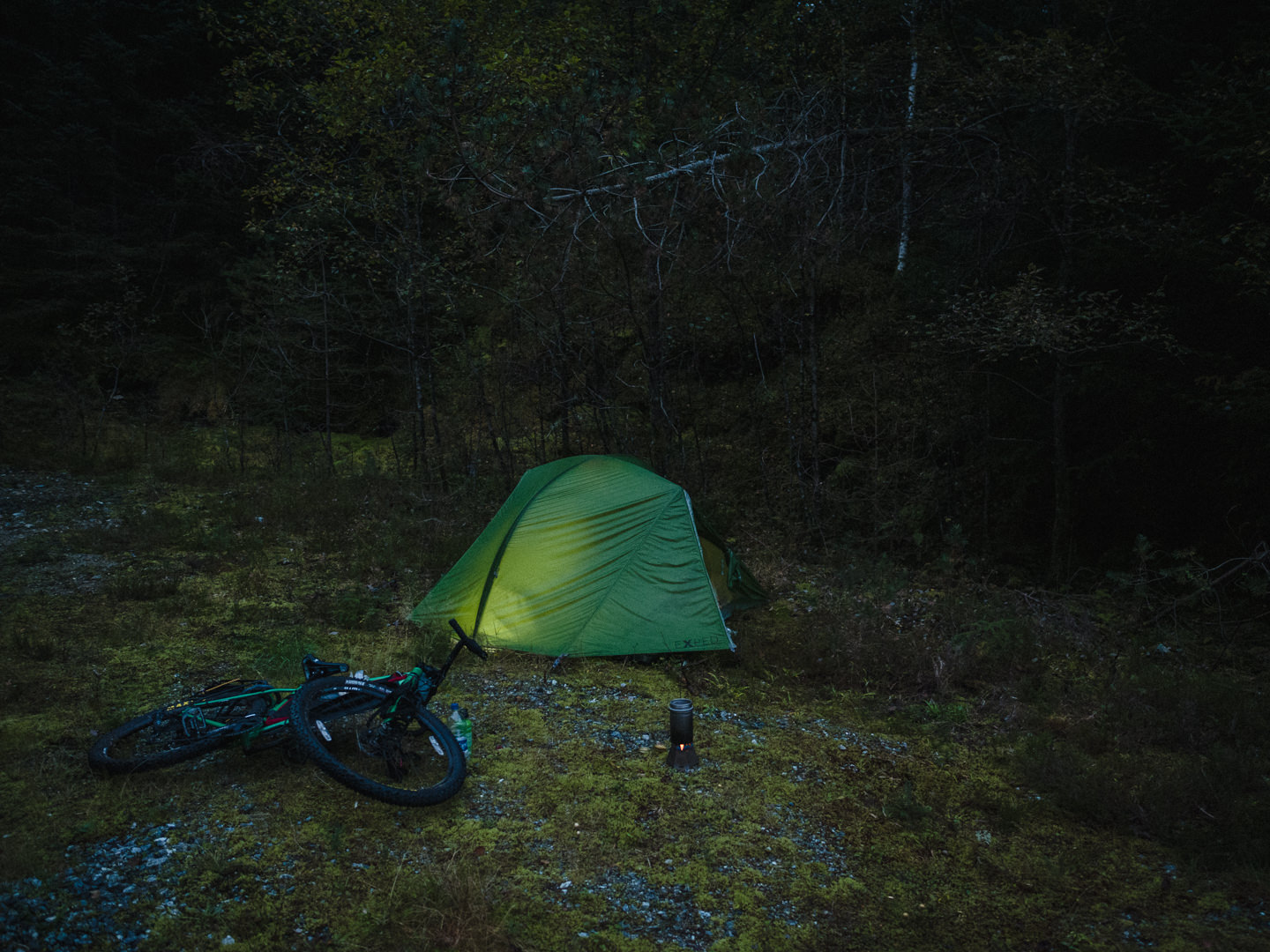 I had hoped to be much further by now but yesterday's adventure in the woods changed that. Given that I needed to be home the morning after I decided to give up the idea to make it to Voss in favour of having a peek at a place I had wasted spent some quality internet time reading about, up in the mountains by lake Askjelldalsvatnet (a reservoir, actually) in Stølsheimen.
Eksingedalen
Surfing the internet for cycling trips around Bergen will sooner than later bring up descriptions of the valley Eksingedalen. Most speak fondly of it, so I rather looked forward to experiencing it myself.
At the doorstep to Stølsheimen
If I could carry a backpack I have no doubt that I would know my way around Stølsheimen decently by now. The backpack and I are not particularly good friends however, so the closest I get is fantasizing about how rideable it is. Haven't gotten as far as trying yet, but I do have the feeling that the ridability of the DNT* trails is limited.
After riding up Eksingedalen one eventually comes to a junction. The main road takes a turn south towards the village Evanger, where later on I would be catching a train on my way home, while the other one turns north further up to the mountains. And since mountains are where the center of gravity is at, north it was!
*DNT: The norwegian hiking association. They maintain numerous hiking trails and huts in Norway.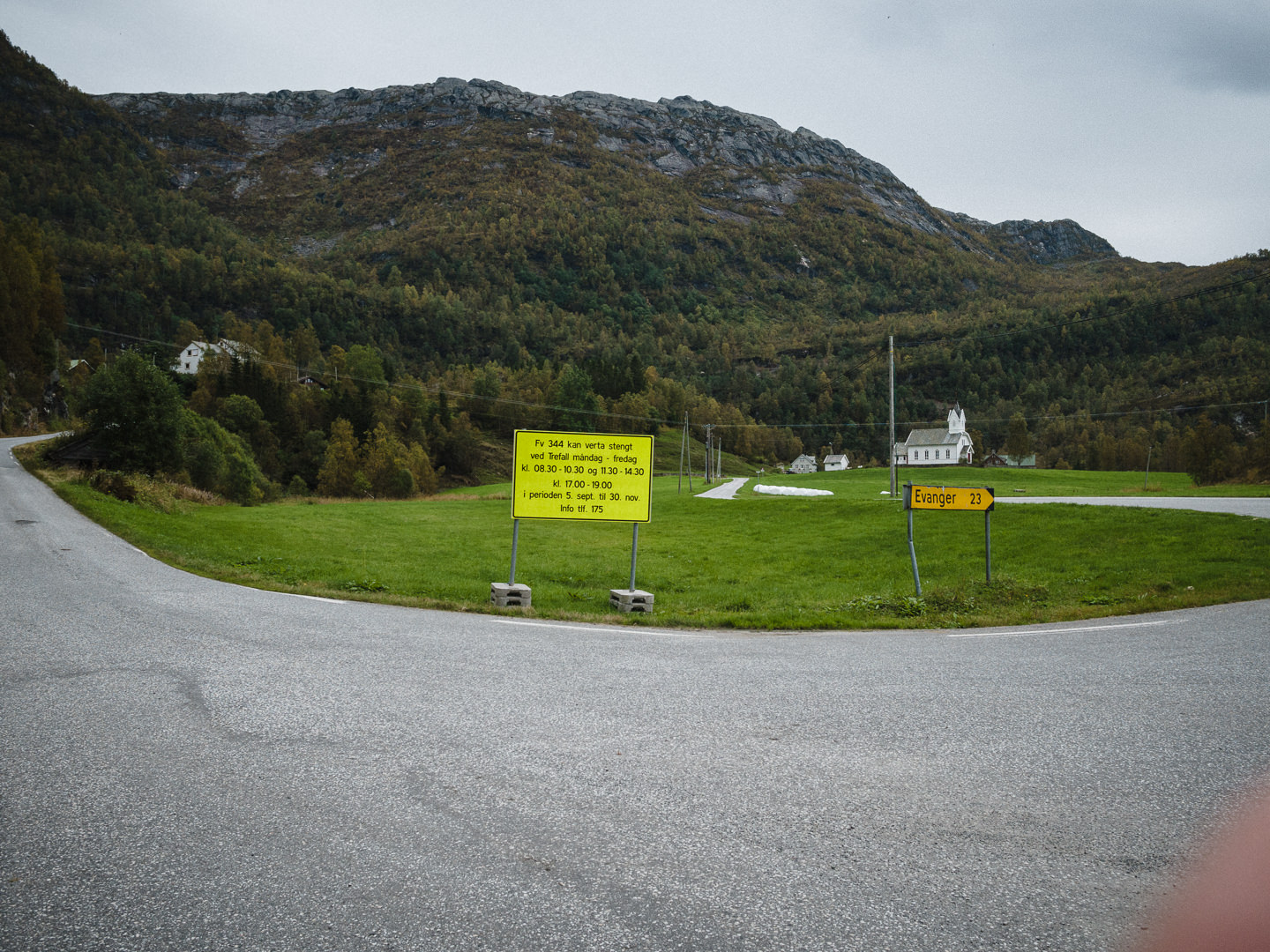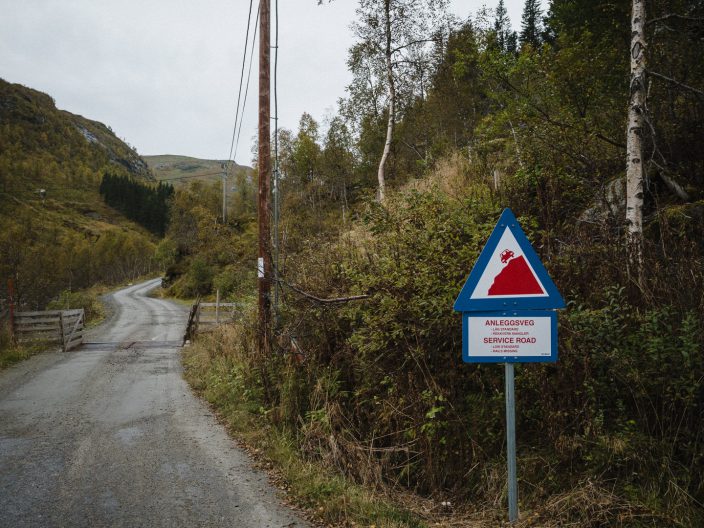 I must admit having a certain fascination for the landscape above the tree line. Guess it resembles an idea of home to me.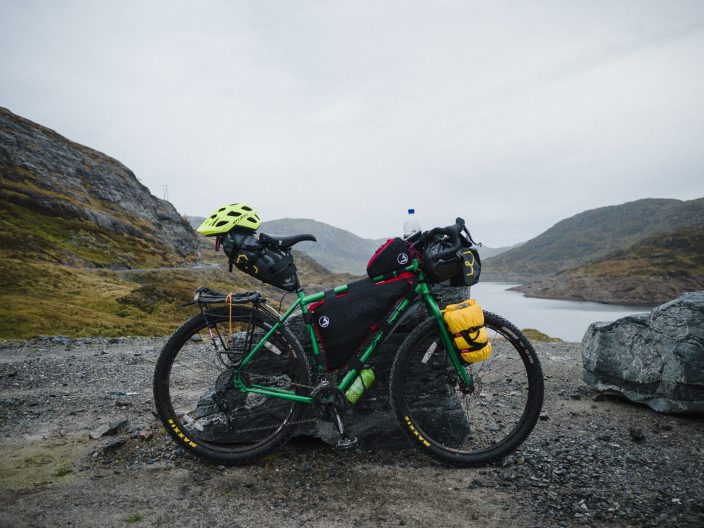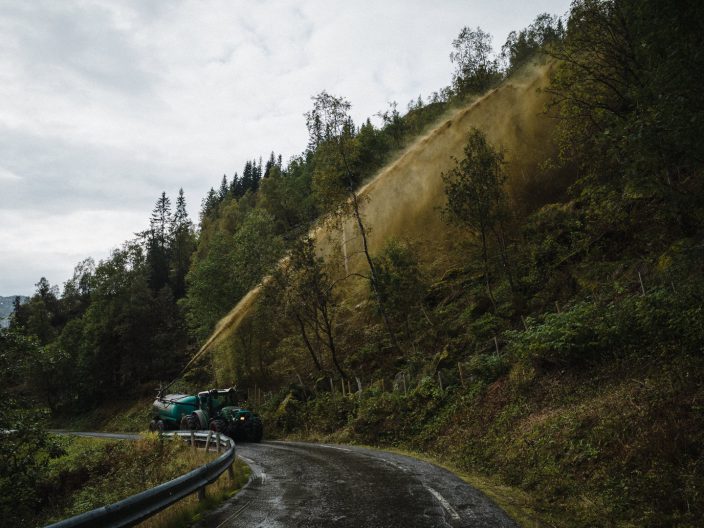 Map
Never did get to the planned destination. Did see fine places though..